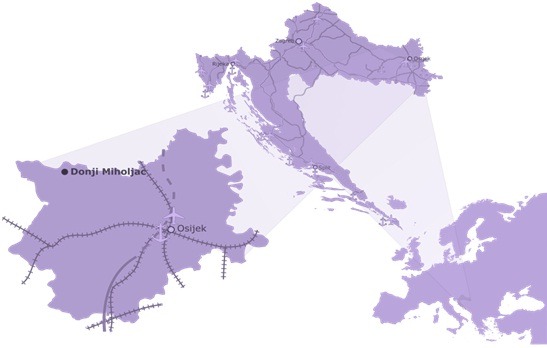 City of Donji Miholjac is situated in the northwestern part of Osječko – baranjska County, next to Drava River. As a borderland area (3 km away from Republic of Hungary), it is spread across 154 km2 and territorially consists of seven settlements: Donji Miholjac, Sveti Đurađ, Podravski Podgajci, Rakitovica, Miholjački Poreč, Radikovci and Golinci.
Donji Miholjac has gained its municipal status for the second time on January 17th 1997 by the resolution of Croatian national parliament. The same year was the 940th anniversary of the first mention of Donji Miholjac and its municipal status provided the right to display its municipal attributes – crest and flag.
As mentioned before, City of Donji Miholjac has an excellent geo traffic position (closeness and an extraordinary access to the EU market, as well as the markets of southeastern and eastern Europe). Nearly the same distance to neighboring capitols of Hungary, Serbia, Bosnia and Herzegovina is another distinctiveness of the city, as well as natural potentials – agricultural and forest areas, as well as preserved environment. City of Donji Miholjac area is also characterized by skilled work force, as well as developed traffic, communal and business infrastructure.